Anatomy Of An Appliqué Design
Appliqué and tackle twill designs are designs that are specifically digitized for using fabric instead of stitches to fill in an area of a design. There are entire magazine and book articles devoted to different ways of doing appliqué with different types of fabric. The variety is endless, but the core process remains mostly the same.
Video Demonstration:

1. Placement Stitch – To start, the embroiderer needs to know where to place the material and in what shape to cut it. This is accomplished through a walk or run stitch that traces the outside edge of the appliqué shape. This stitch line is referred to as a placement stitch, a locater stitch, an outline stitch, or sometimes even the cut line. No matter what the line is called, it has the same purpose. It shows the embroiderer where to place the appliqué material.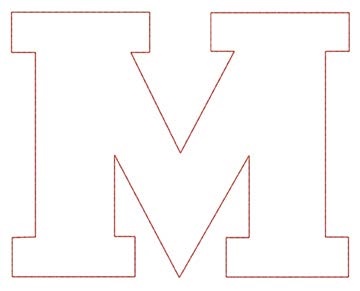 2. Place the Material – Typically after the placement stitch is sewn, the machine will be stopped so that the material can be placed. Usually a light adhesive is used to keep the material in place while it is being tacked into place. Some twill manufacturers will apply a pressure sensitive (peel-andstick) adhesive to the back of the twill.

NOTE: If using spray adhesive, please spray outside or at least far from your machine.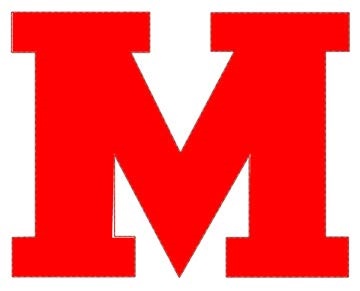 3. Tack-down Stitch – After the material has been placed, the edges are tacked down with a tackdown stitch. This stitch is usually an inset walk or run stitch, a zig-zag or tackle stitch, or an e-stitch or blanket stitch. The purpose of this stitch is to attach the material to the product as quickly as possible without shifting the material and losing the registration. Attempting to tack down with a standard density satin stitch usually leads to pucking, bunching, and shifting of the material.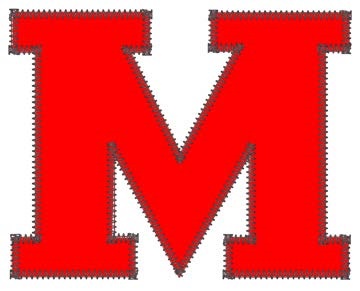 4. 4. Cover Stitch (Optional) – Many designs will stop after the tack-down, but many others will finish the edge by following up with a satin stitch cover over the top of the tack-down.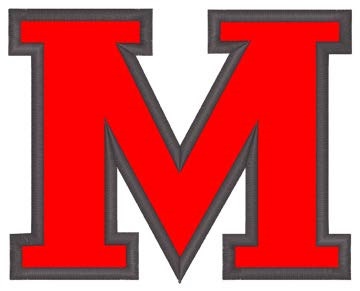 Precut Appliqué
---
If you would prefer to cut your appliqué material ahead of time, you can use the placement stitch as a template. Some embroiderers sew just that stitch onto the appliqué material while others sew it on a manila folder and use that as a stencil for cutting the appliqué pieces.