For more information or to request a Brochure, call us on 02392 590 281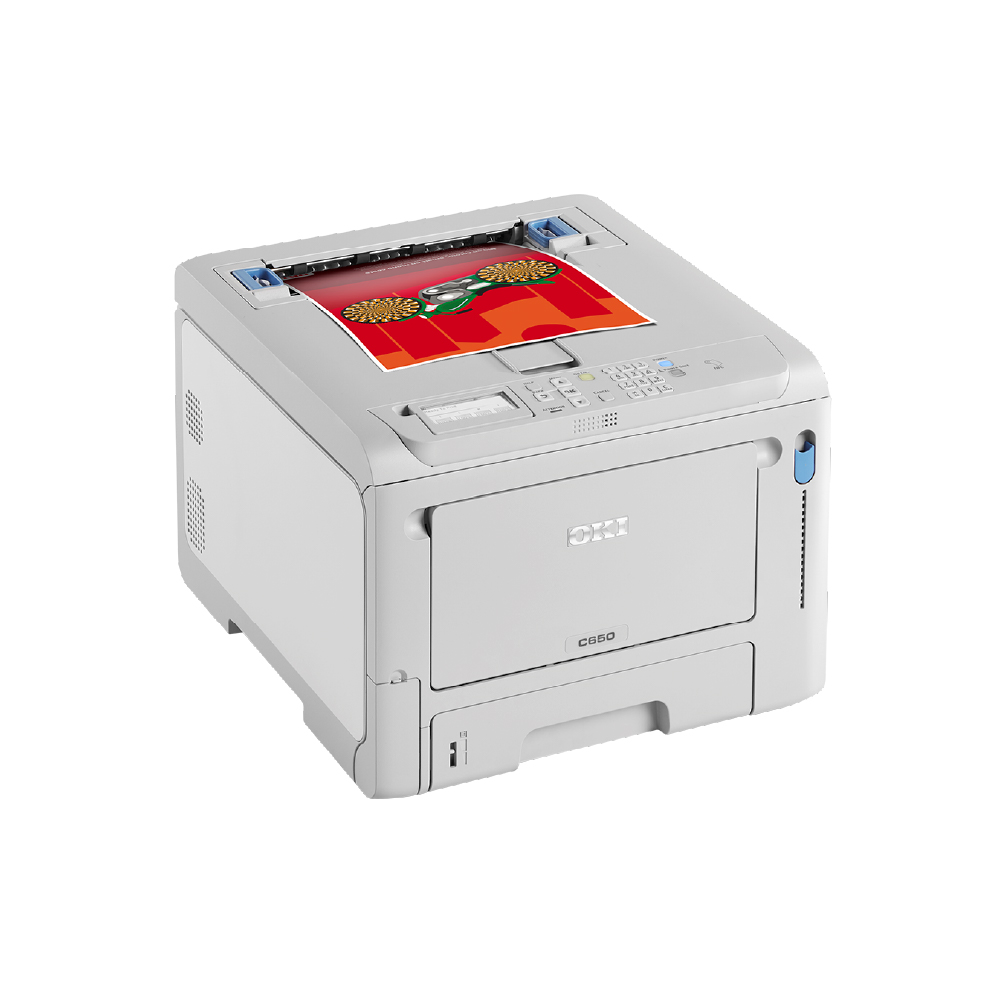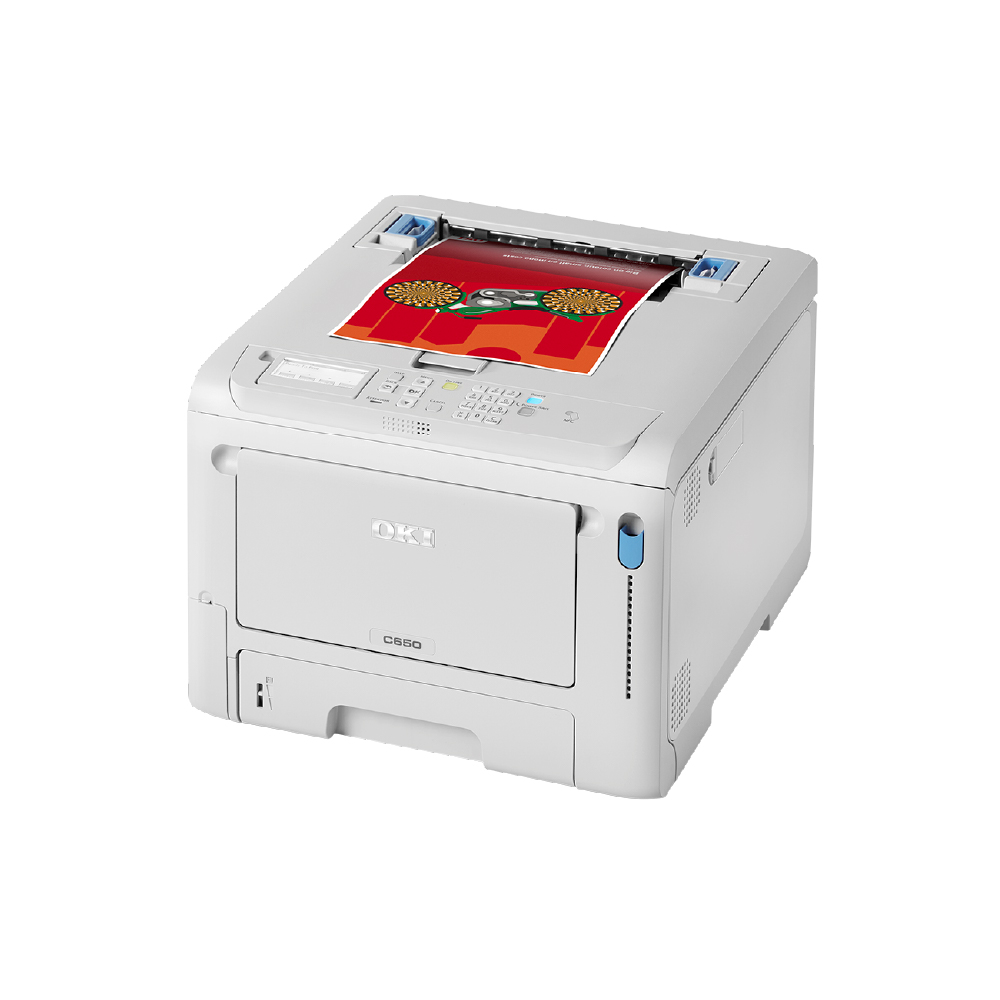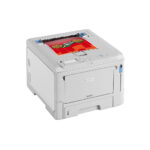 OKI C650 A4 Colour Printer
£809.00 +VAT (£970.80 inc VAT)
---
The world's smallest high performance CMYK A4 colour printer. The C650 is perfect for businesses where space is limited. Use as an office printer and with the CMYK Forever Papers for maximum versatility.
Description
Specifications
Description
OKI C650 A4 Colour Printer
High performance CMYK A4 Colour Printer
You can expect massive performance from the super-compact C650. As the world's smallest high-performance A4 colour printer, the C650 is perfect for businesses where space is limited. Typically, compact printers are compromised when it comes to quality, running costs and speed. The C650 turns this on its head by providing all the best attributes you'd expect from a workgroup device in the form of an A4 desktop colour printer, including unrivalled media handling and unbeatable cost-efficiency.
Ideal for any business – especially those where space is at a premium
With Space Saving Technology, the C650 thrives where space is tight and performance is a priority. It's durable enough for warehouse use and can slot neatly into an enclosed space in a kiosk, or on a production line and is equally at home in the back office.
Small frame requires the minimum amount of space

Full front access makes maintenance easy and reduces space required to service device

48% metal construction increases reliability and durability
High speed production with pre-treatment built in.
A4 Print Speed
35ppm colour/mono
Time to first print
6.5 seconds colour/mono
Warm up time
≤ 20 seconds from power on
≤ 11 seconds from power save
Connectivity
Standard: 10/100/1000 Base Ethernet, USB 2.0 Device, USB
2.0 Host x 1, NFC4 Optional: Wireless 802.11abgn
Printer Languages
PCL 6 (XL3.0) emulation, PCL 5c emulation, Epson FX
Emulation, PostScript 3 emulation, PDF 2.0 emulation, IBM
ProPrinter emulation
Network & Protocols
All major network protocols supported via ethernet card with
internal web server for printer and network card set-up and
management. TCP/IPv4&v6, NetBIOS over TCP, DHCP, DHCPv6,
HTTP, HTTPS, DNS, DDNS, WINS, Bonjour, SMTP, SMTPS, POP3,
SNMPv1&v3, SNTP, IPP, IPPS, WSD Print, LLTD, IEEE802.1X,
LPR, Port9100, Telnet, FTP, FTPS, AirPrint, Wireless
IEEE802.11a/b/g/n, WEP, WPA, WPA2, Personal, Enterprise2
OS Compatibility1
Windows 10, Windows 10 x64, Windows 8.1, Windows 8.1
x64, Windows 8, Windows 8 x64, Windows 7, Windows 7 x64,
Windows Server 2019, Windows Server 2016, Windows Server
2012 R2, Windows Server 2012, Windows Server 2008 R2,
Windows Server 2008, Windows Server 2008 x64 ,macOS
X 10.15, macOS X 10.14, macOS X 10.13, macOS X 10.12,
macOS X 10.11, iOS, Linux, Android
Advanced Networking & Security
IPv6, 802.1x authentication, SNMP V3, SSL3/TLS HTTPS
encryption, Secure Print, Secure Erase, Data Encryption, IP
filtering, IPSec, MAC Filtering
Utility Suite1
Print Job Accounting Client, Firmware Update Tool,
PS Gamma Adjuster, Color Correct, SENDYS Explorer3;
Windows: Template Manager, OKI LPR, Color Swatch
Utility, Driver Installer Generator, smart PrintSuperVision,
Configuration Tool, Network Extension, Monitoring Tool, The
Design Hub; MacOSX: Network Card Setup, Profile Assistant;
Android/iOS: Mobile Print; Android: NFC Setting Tool; iOS:
Firmware Update Tool
Printer Fonts
PCL emulation 87 scalable fonts, PostScript emulation 80
fonts, LinePrinter, OCR-A/B, USPS ZIP Barcode
Barcode
10 types of one dimension with 26 variations: UPC-A, UPC-E,
EAN/JAN-8, EAN/JAN-13, Interleaved2of5, Code39, Code 128,
EAN/UCC-128, CODABAR, ZIP+4 POSTNET, 2 types of two
dimensions: PDF417, QR code(Model2)
Print Quality Resolution
1200 x 1200 dpi
Enhancements
Auto Color Balance, Photo Enhance via Driver
(Windows PCL6 driver only)
Paper Capacity
Tray 1: 250 sheets of 80gsm;
Multi-purpose tray: 100 sheets of 80gsm
Paper Capacity – Optional Trays
Tray 2: 530 sheets of 80gsm; Tray 3: 530 sheets of 80gsm;
Tray 4: 530 sheets of 80gsm
Maximum Paper Capacity
1,940 sheets of 80gsm
Paper Sizes
Tray 1: A4, A5, A6, B5; B6 Tray 2/3/4: A4, A5, A6, B5, B6;
Multi-purpose tray: A4, A5, A6, B5, B6, B7, B8; Envelopes
(Com-9, Com-10, DL, C5), Custom size: Width 55-216mm Length
91-1,321mm; Duplex: A4, A5, A6, B5, B6; Custom size: Width
105-216mm Length 148-356mm
Paper Weight
Tray 1: 60 to 256gsm; Tray 2/3/4: 64 to 176gsm;
Multi-purpose tray: 60 to 256gsm; Duplex: 64 to 176gsm
Duplex
Standard
Paper Output
150 sheets face down, 100 sheets face up, 80gsm
Memory
1GB RAM; 3GB eMMC
Processor
ARM® Cortex®-A9
Environment
Operating temperature/humidity: 10°C to 32°C (17°C to
27°C recommended) / 20% to 80% RH (50% to 70% RH
recommended) Storage temperature/humidty: -10°C to 43°C,
10% to 90% RH
Power Supply
Single phase 220–240VAC, frequency 50/60Hz +/- 2%
Power Consumption
Typical: 840W; Max: 1150W; Idle: 20W; Power Save: <14W;
Deep Sleep: <1.1W; Auto-Off: <0.15W
Noise Level
Operating: 54dB(A) or less; Standby: 32dB(A) or less ;
Power save: Inaudible
Dimensions (HxWxD)
290 x 395 x 430mm
Operating Space Required (HxWxD)
490 x 435 x 654mm
Weight
28.2kg (including all consumables)
Duty Cycle
Maximum: 100,000 pages/month;
Average: 8,000 pages/month
Warranty
3 years extended warranty upon registration within 30 days
of purchase
Product Order Numbers
C650dn-Euro 09006144;
Accessories (Order Numbers)
Option Tray 09006124; Cabinet 09006141; Caster Base 09006140; Wireless LAN 45830222
Toner Cartridges* (Order Numbers) – 6,000 pages
Cyan: 09006127; Magenta: 09006128; Yellow: 09006129
Toner Cartridges* (Order Numbers) – 7,000 pages
Black: 09006130
Image Drum** (Order Numbers) – 50,000 pages
Cyan: 09006132; Magenta: 09006133; Yellow: 09006134; Black: 09006131
Transfer Belt (Order Numbers) – 60,000 pages
09006125
Fuser Unit*** (Order Numbers) – 60,000 pages
09006126
* Toners: A4 pages yield compliant with ISO/ISC 19798
** Drum: Average number of A4 pages printed (3 pages per job)
*** Fuser: 3 pages per job
Printer shipped with toner for approx. 3,000 A4 pages
For more information or to request a Brochure, call us on 02392 590 281