Polyprint DTG & Pretreater Consumables
Get the right products for the correct results
We supply the leading Dupont Artistri Inks which are specially formulated to give optimal performance with our Texjet range of direct to garment printers. The Dupont ink can be purchased in sealed and refillable cartridges. We also supply Polyprint Power inks in CMYK that require a shorter curing time. There is a choice of 3 pre-coating liquid, two for dark garments and one for lights (including Polyester). In addition to pre-coating Amaya also offer accessories such as protection paper, swabs, pre-treat spray guns, funnels, cartridges and more.
The Kornit Presto S is the only truly sustainable single-step solution for Direct to Fabric (DTF) printing offering high-quality prints, vivid colours, and great hand feel on a multiple of fabrics on demand.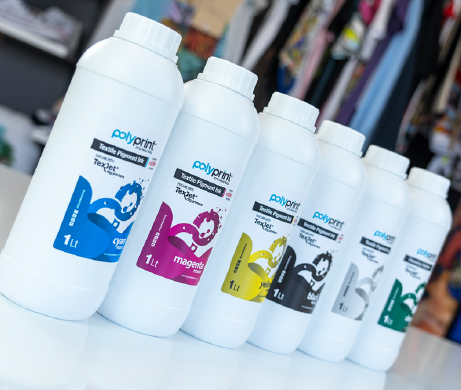 Dupont Artistri® Inks
With a 30+ year history in digital printing, this industry standard provides consistency, excellent white coverage with a single pass, solid repeatability during mass production, and high wash fastness.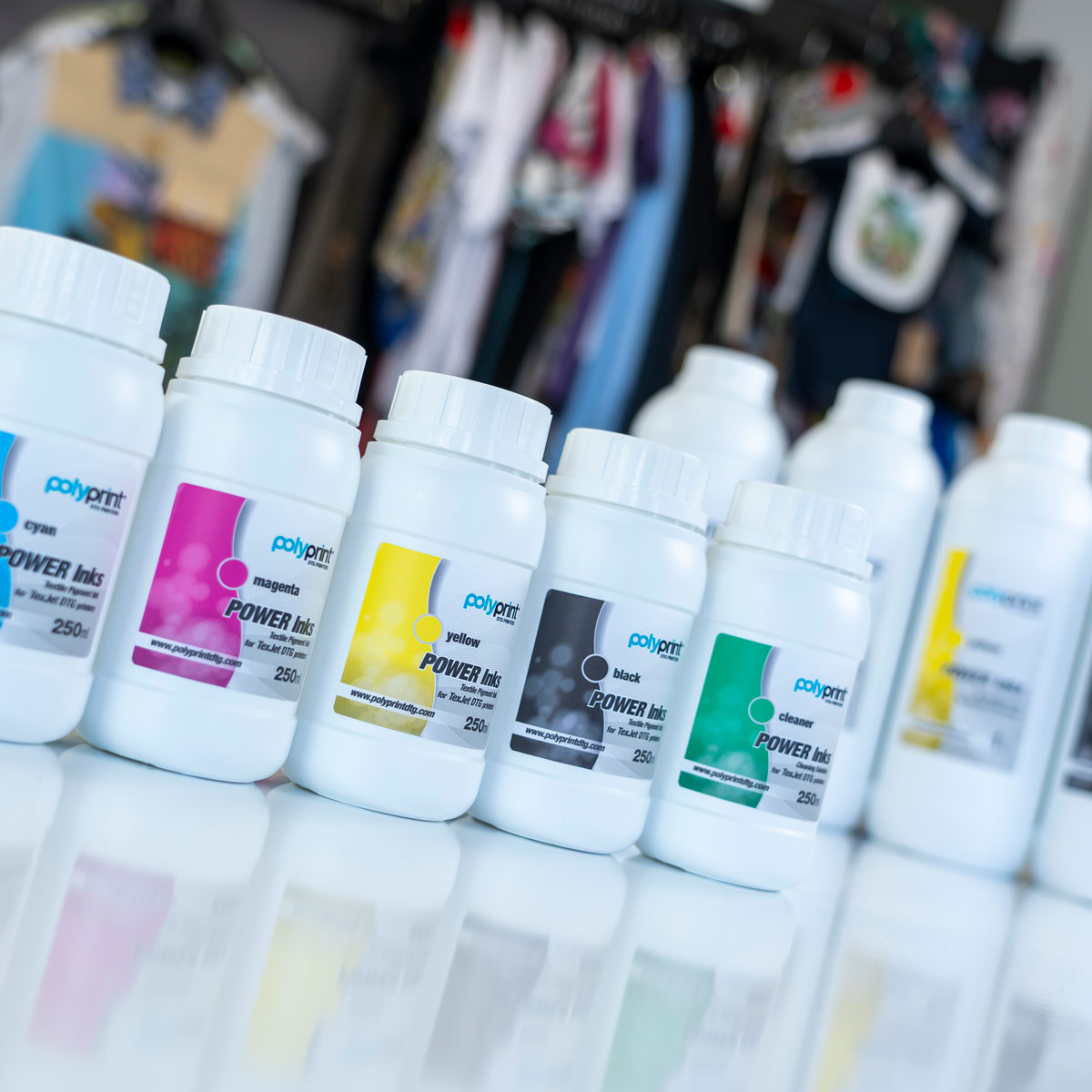 Polyprint Power Inks
Increase vibrancy and reliability. Gain 30% more wash-fastness and shorter cure times with your heat press. Fix colors fast (120 seconds on dark garments, 60 seconds on light). Perfect for high-volume production and daily runs.
Precoating
White ink on dark garments? You need this solution to create a layer between fabric and ink so the white won't vanish.
Polyprint DTG Ink Comparison
Looking to learn the differneces between both Dupont Inks and Power Inks, then look no further.
| INKS | DUPONT INKS | POWER INKS |
| --- | --- | --- |
| CMYK | Yes | Yes |
| WHITE | Yes | No (Compatible with Dupont White) |
| PRINTABILITY | Excellent | High |
| COLOR VIBRANCY | High | Excellent |
| COLOR ACCURACY | High | High |
| WASH FASTNESS | High | Excellent |
| PRETREATMENT (DARKS) | P5001, P5003 | No (Compatible with Dupont P5001, P5003) |
| PRETREATMENT (LIGHTS) | No (Compatible with Polycoating) | Polycoating |
| CURE TIMES (DARKS) | P5001 = 210 sec P5003 = 60-120 sec | 120 sec |
| CURE TIMES (LIGHTS) | 120 sec | 60 sec |
| SEALED INK CARTRIDGES | Yes 140ml one-time use | No |
| BULK SYSTEM | Yes (250ml, 1L, 10L) | Yes (250ml, 1L) |
| CLEANER | Yes | Yes |
| RECCOMENDATIONS | Any production volume; intermittent runs | High production volume; daily runs |