How to unpack your Melco EMT16X Modular Embroidery Machine
If your machine was delivered, this may have been completed by the delivery service. It is still recommended that you reconcile your shipment with your packing list. It is important to check the packing list instead of the invoice. The invoice will show all items that were ordered, but the packing list will indicate if any items are on back order.
Video Demonstration:

1. Remove the outer packing/holding straps by cutting them.

2. Remove the options box and set aside.

3. Remove the main lid and carefully lift the exterior box up and away from the machine.

4. Cut the packing/holding straps securing the machine to the box/pallet. Remove any additional loose packaging, boxes, and foam spacers.
5. Locate the four handles in the packaging. They will be contained in their own box. Place two handles on each side of the machine. On each leg, the handles should be close to the front and one close to the back. There are cuts in the base box to make this easier to accomplish.

a. To place the handle, align the angled edge to the t-channel in the leg of the machine base.

b. Rock forward and lift slightly up on the handle to rotate it into place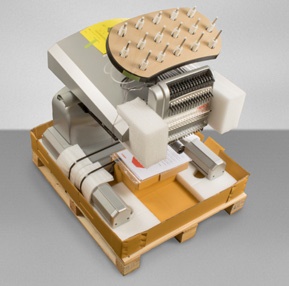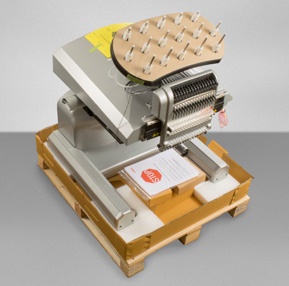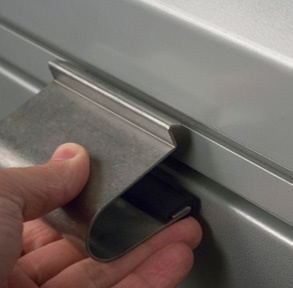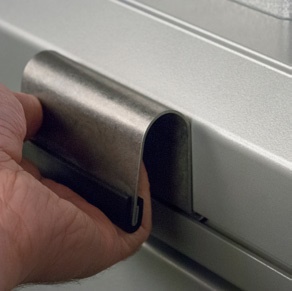 Warning: Do not attempt to lift the machine alone. Always move the machine with two people
7. Place the machine on the assembled cart so that the padded feet of the machine fall into the holes on the tops of the machine cart. Make sure the back support of the cart is to the back and the locking casters are in front.