Hooping the fabric or garment securely is important to the quality of the embroidery. This section will walk you through the adjustment of the hoop tension as well as the hooping process.
Video Demonstration:

Adjusting the Hoop Tension
---
You will need to adjust the tension of the hoop any time you change to a drastically different material. For example, changing from a T-shirt to a sweatshirt would require a change in hoop tension.
1. Start with a clean flat working surface. Remove clutter from the area. Do not hoop on an uneven surface or stack of shirts.

2. Use an appropriate hoop for your design. For more information, read the section on choosing an appropriate hoop.

3. Loosen the tension on the outer hoop ring by turning the adjustment screw counter-clockwise.

4. Place the outer hoop ring inside the garment.

5. Slide the appropriate backing between the outer ring and the hoop.

6. Smooth the fabric over the hoop.

7. Gently align the inner hoop with the outer hoop, sandwiching the backing and a single layer of the garment. The mounting brackets should be facing up.
8. Press the hoop down and into place. It should go fairly easily. Take care to press on the ring rather than on the arms.

WARNING: Pressing on the arms can bend the hoop out of shape or break it.

9. Reach inside the garment and tighten the outer hoop by turning the adjustment screw clockwise. Tighten the hoop to finger-tight.

10. Now, without loosening the screw, remove the hoop from the garment.

11. Tighten the adjustment screw a turn or two more.

12. The outer hoop is now adjusted.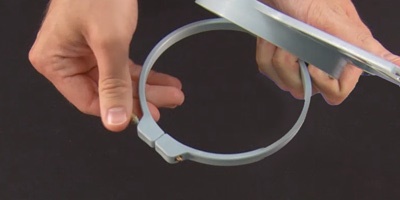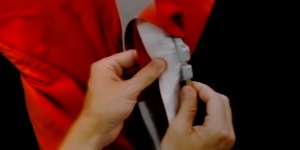 The appropriate tightness of a hoop can be tested by tapping rapidly with moderate pressure on the fabric inside the hoop. By doing this, you can mimic the presser foot of the machine. If material walks into the hoop, the hoop is too loose and needs further adjustment.