Machine Connections Multiple Source
How to connect your cables to multiple machines
For connecting multiple machines to the computer, an Ethernet switch device and cables are required. The switch is a small electronic device that allows multiple devices to be connected through a network. You can connect as many machines as your switch will allow.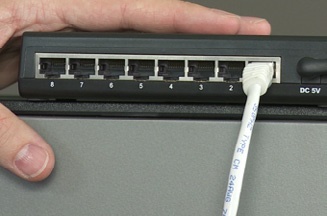 Video Demonstration:

1. Connect the Ethernet switch power cable to the switch and a power source.

2. At least two Ethernet cables are required with the switch. Connect one end of the Ethernet cable into any port on the switch.

3. Connect the other end of this cable directly into the Ethernet port on the computer

4. Now using another cable, connect one end into a different port on the switch.
5. Connect the other end into the cable port on the first machine you want to connect.

6. If there are other machines, continue to connect the next cable(s) from the Ethernet switch to the machine(s).

7. If all the machines are connected, you may now move on to Selecting the Connection.