For more information or to request a Brochure, call us on 02392 590 281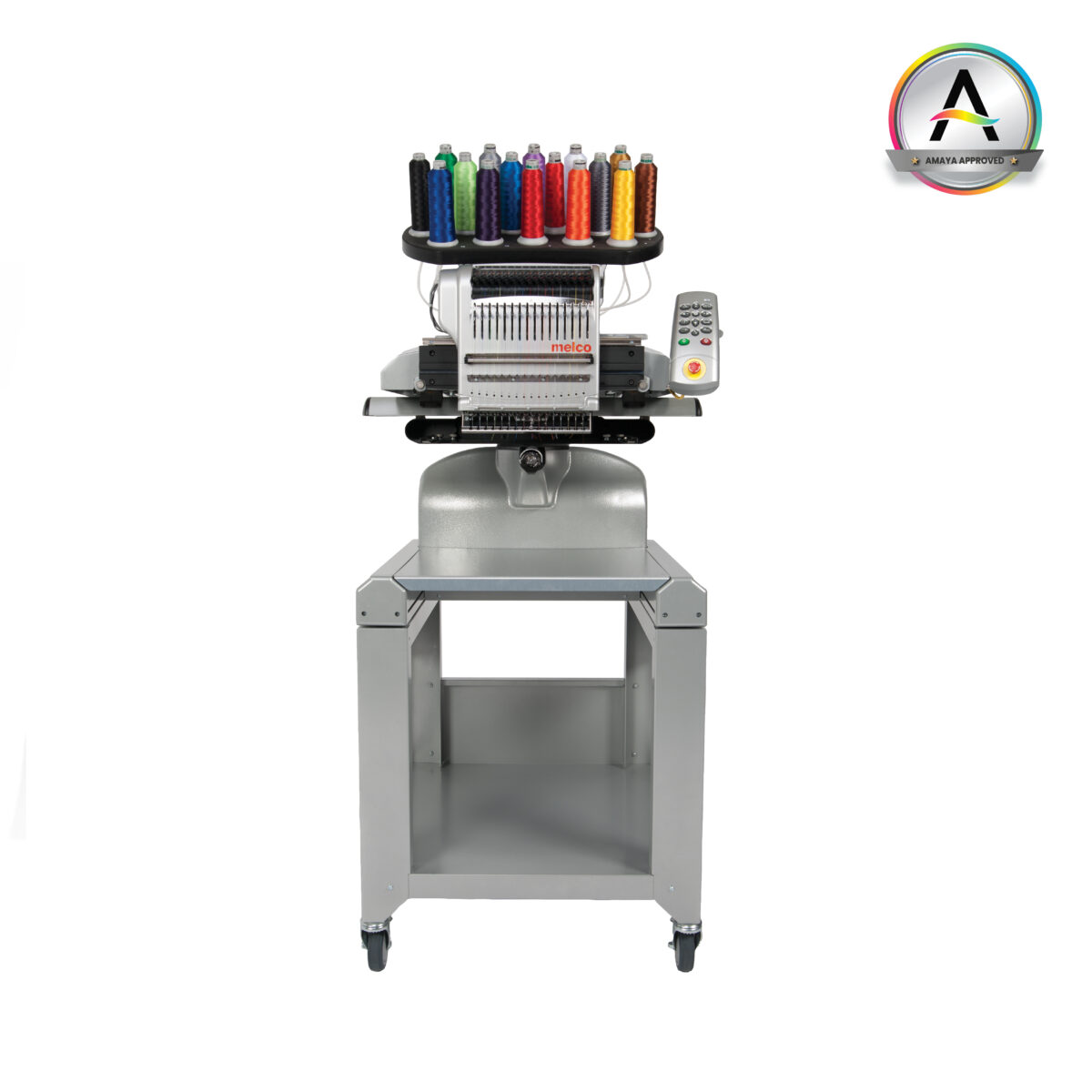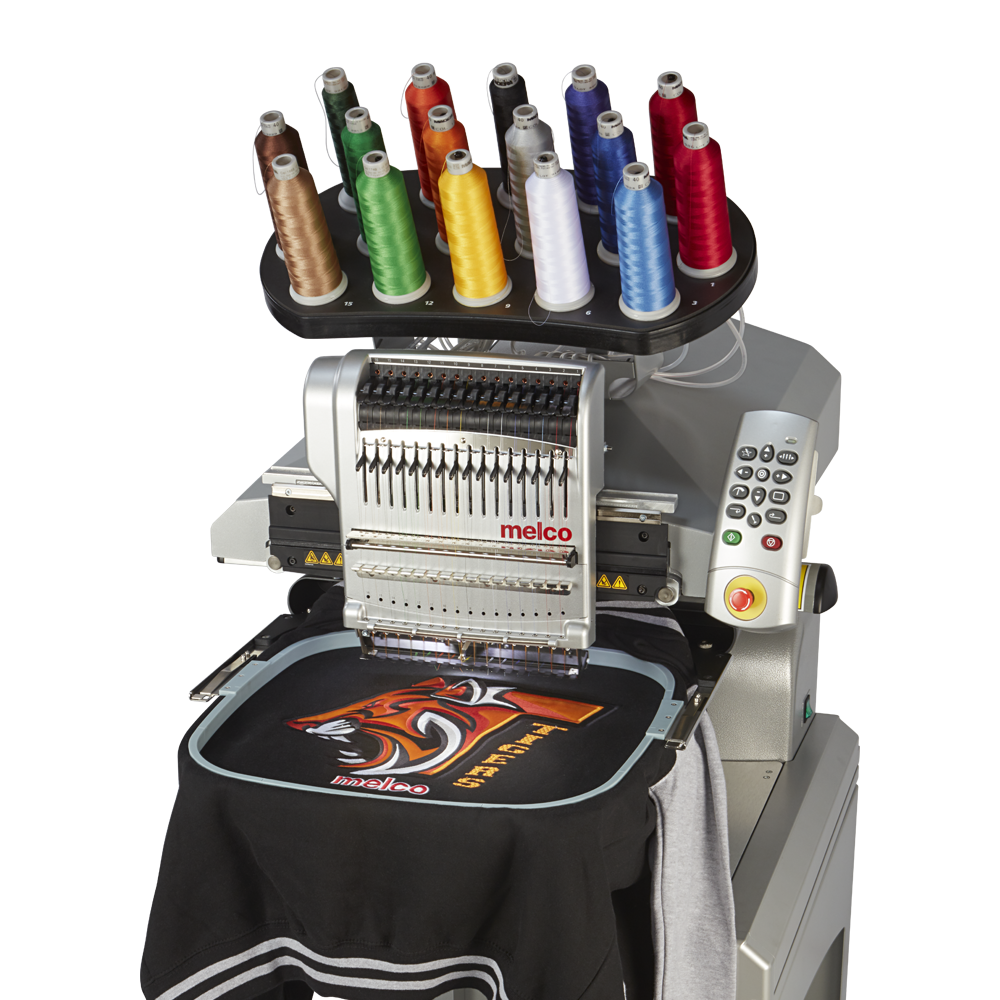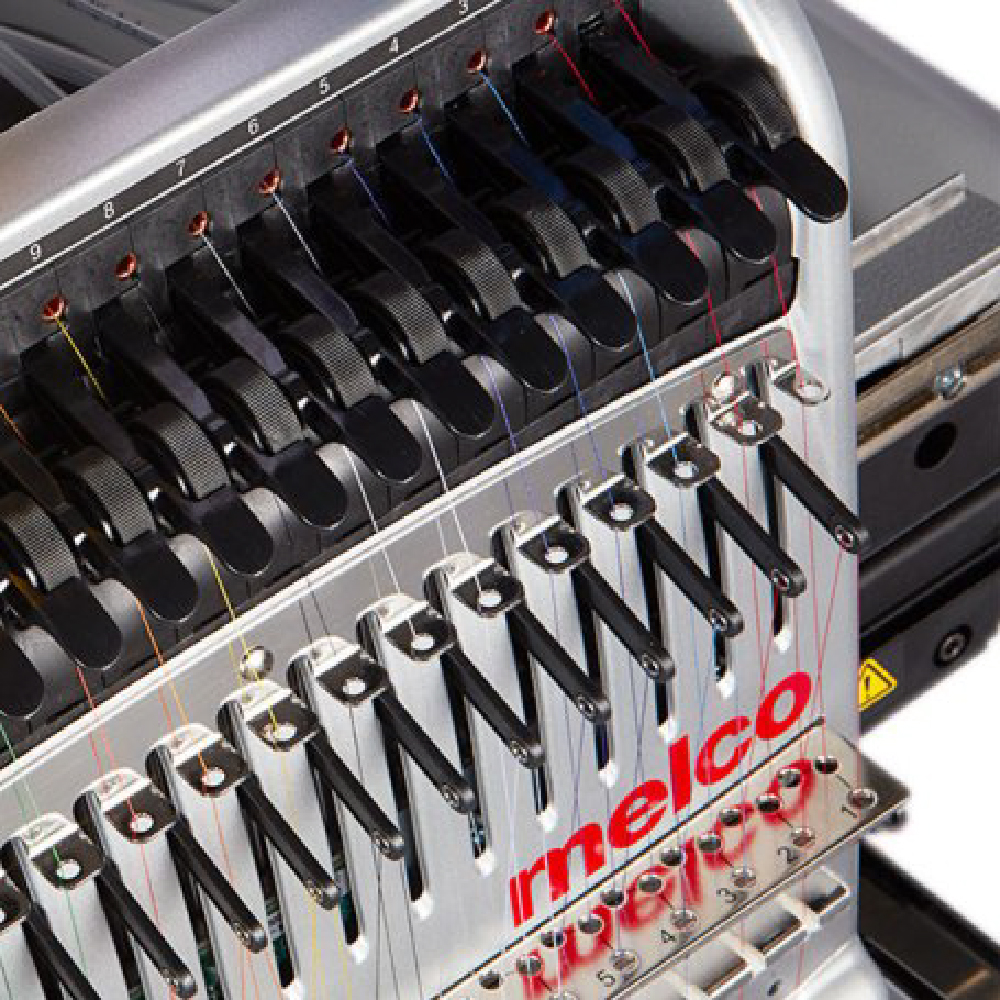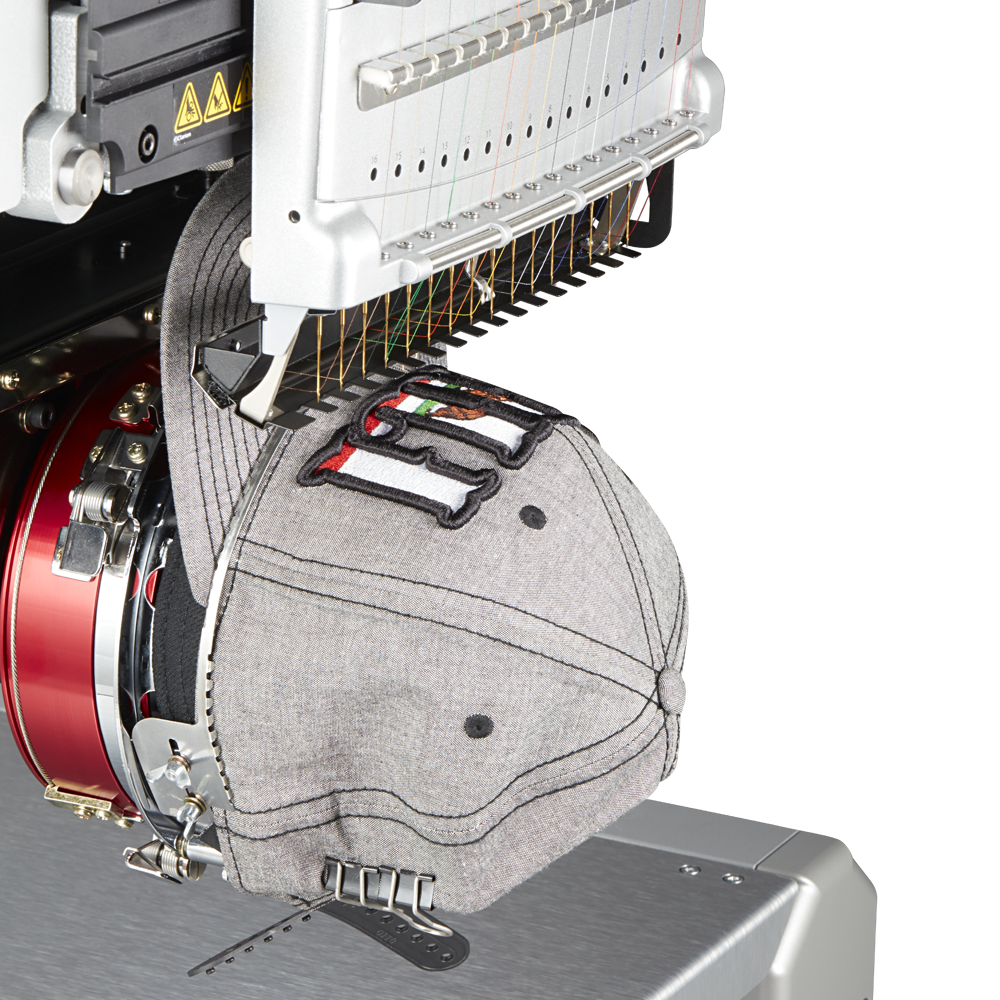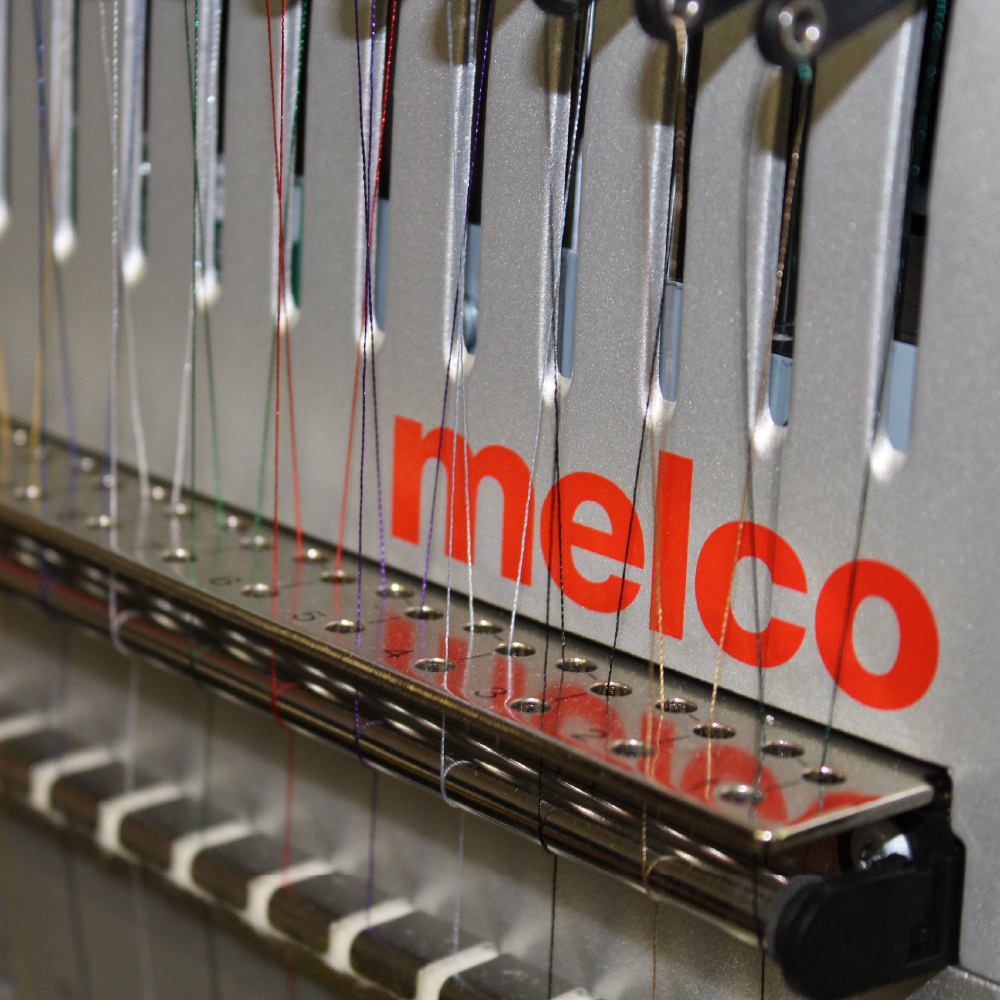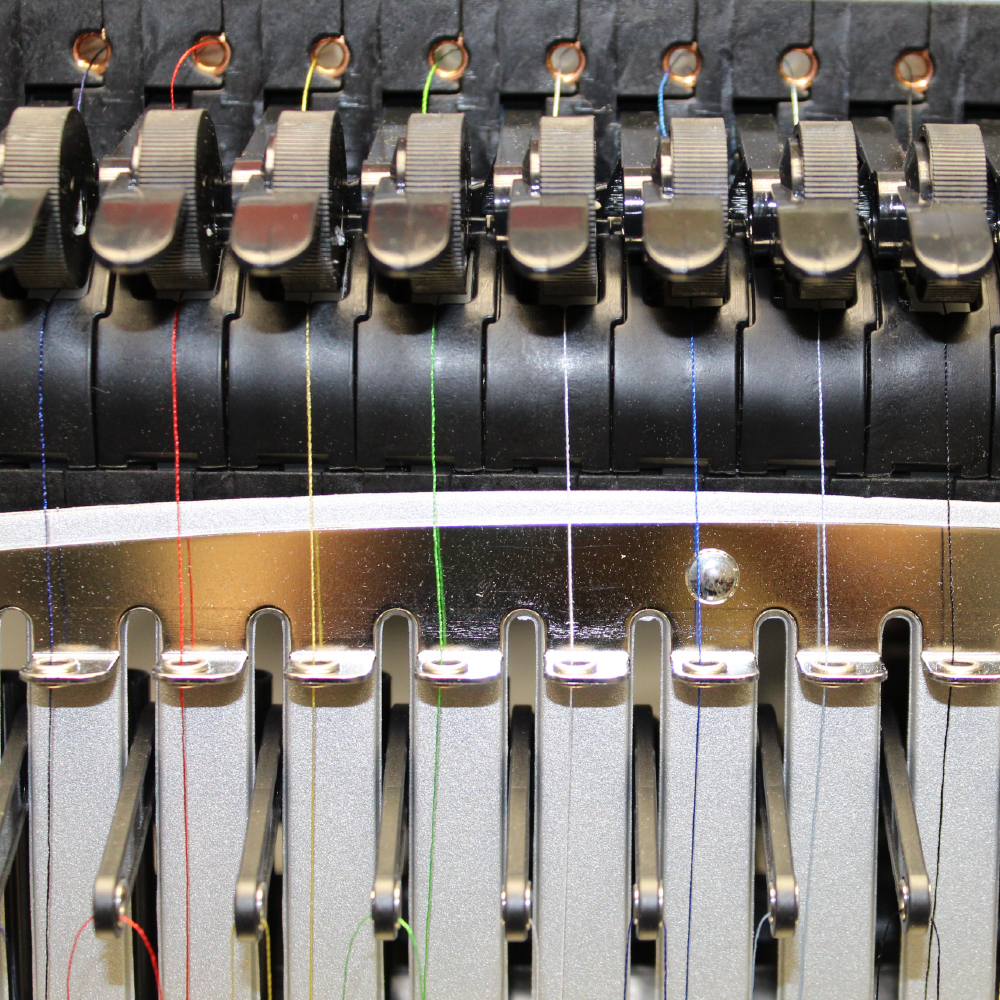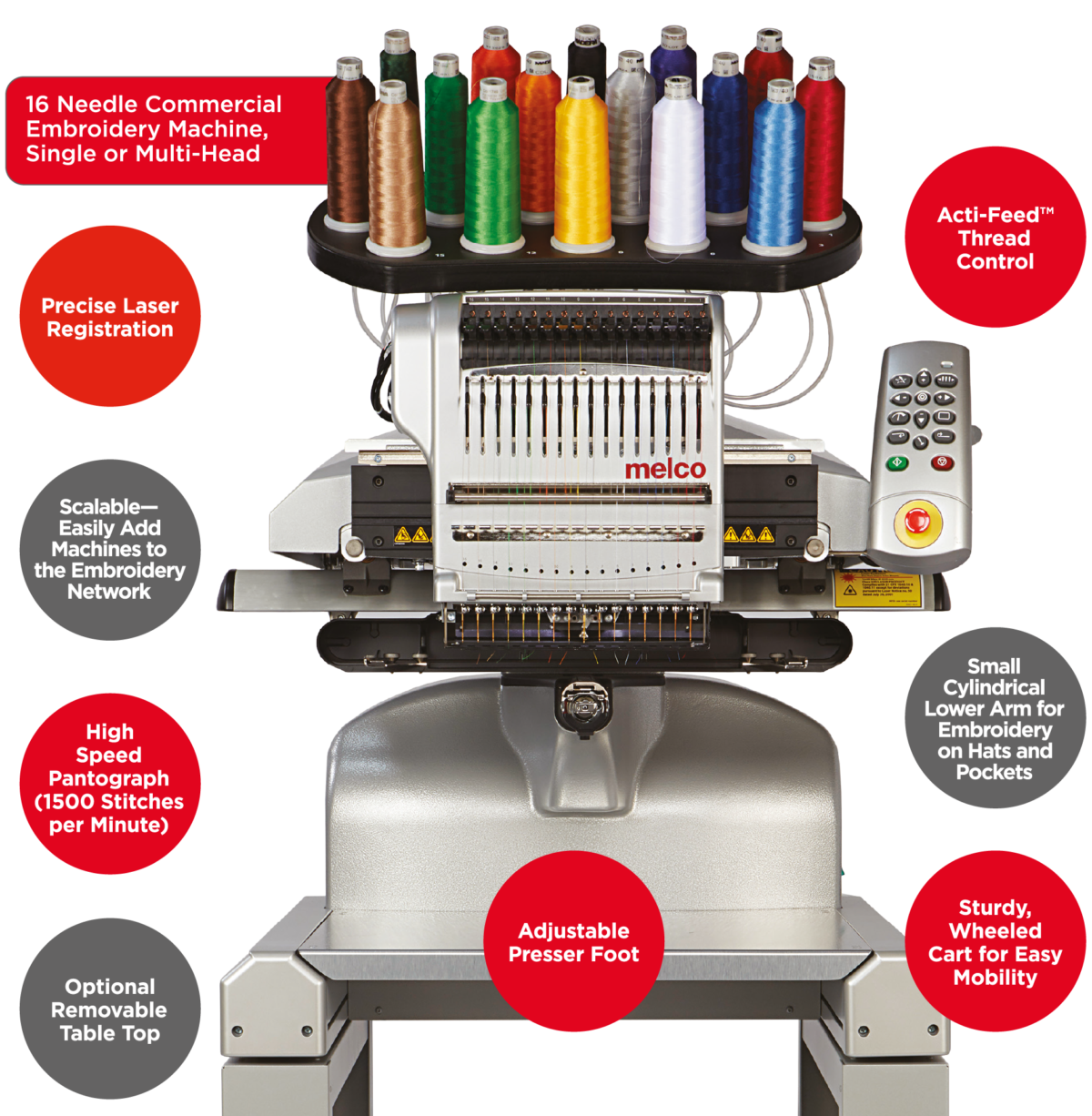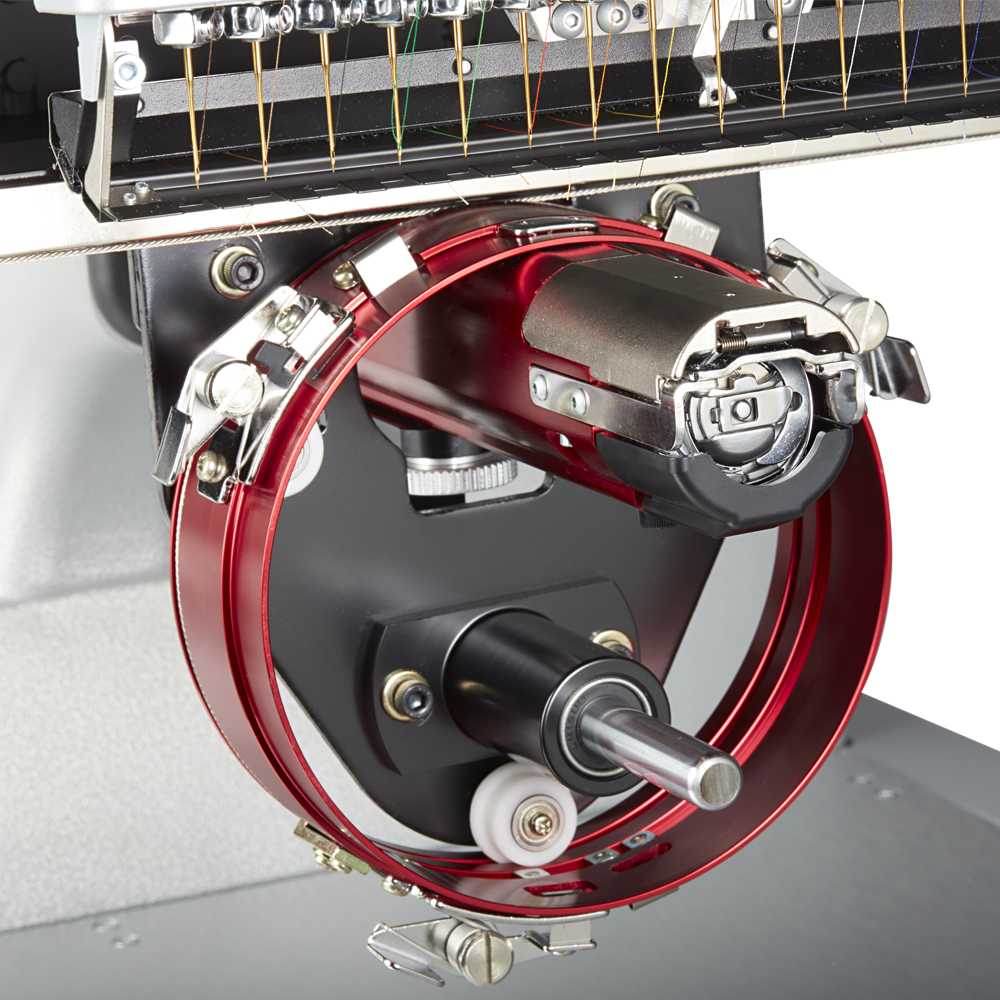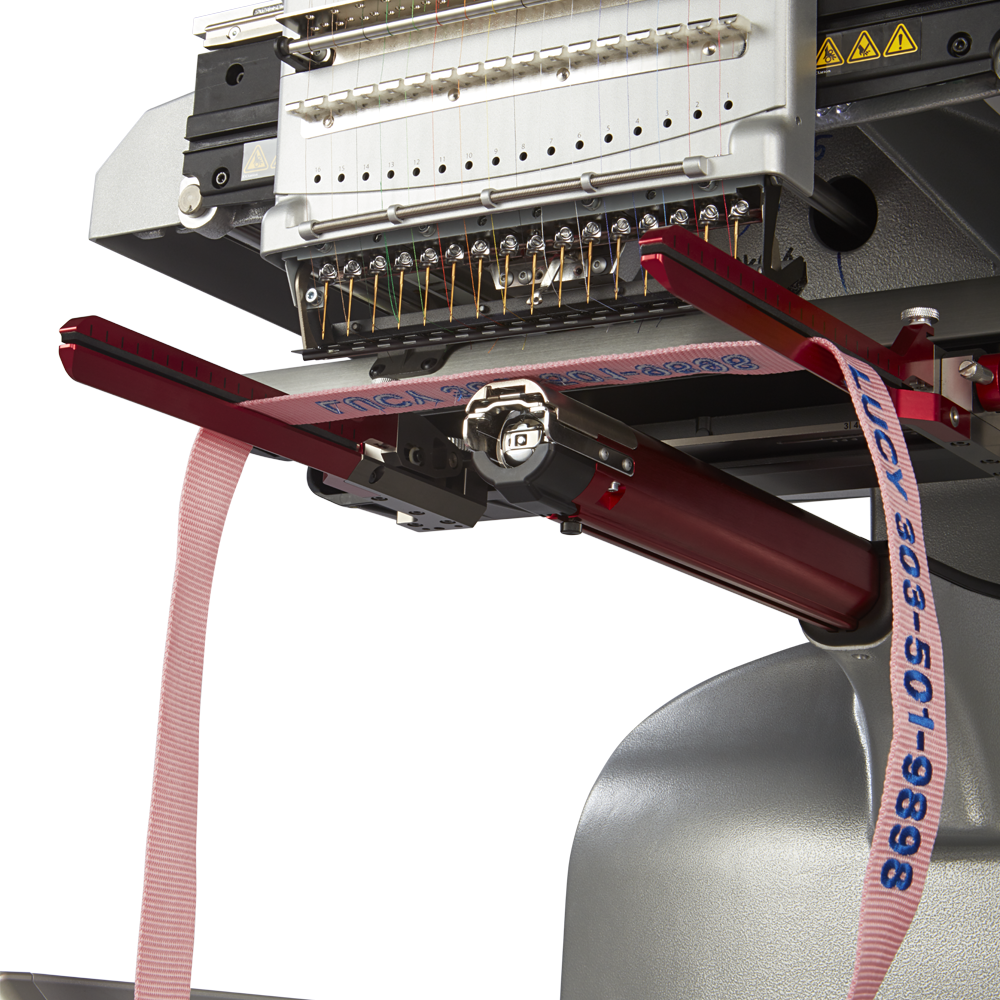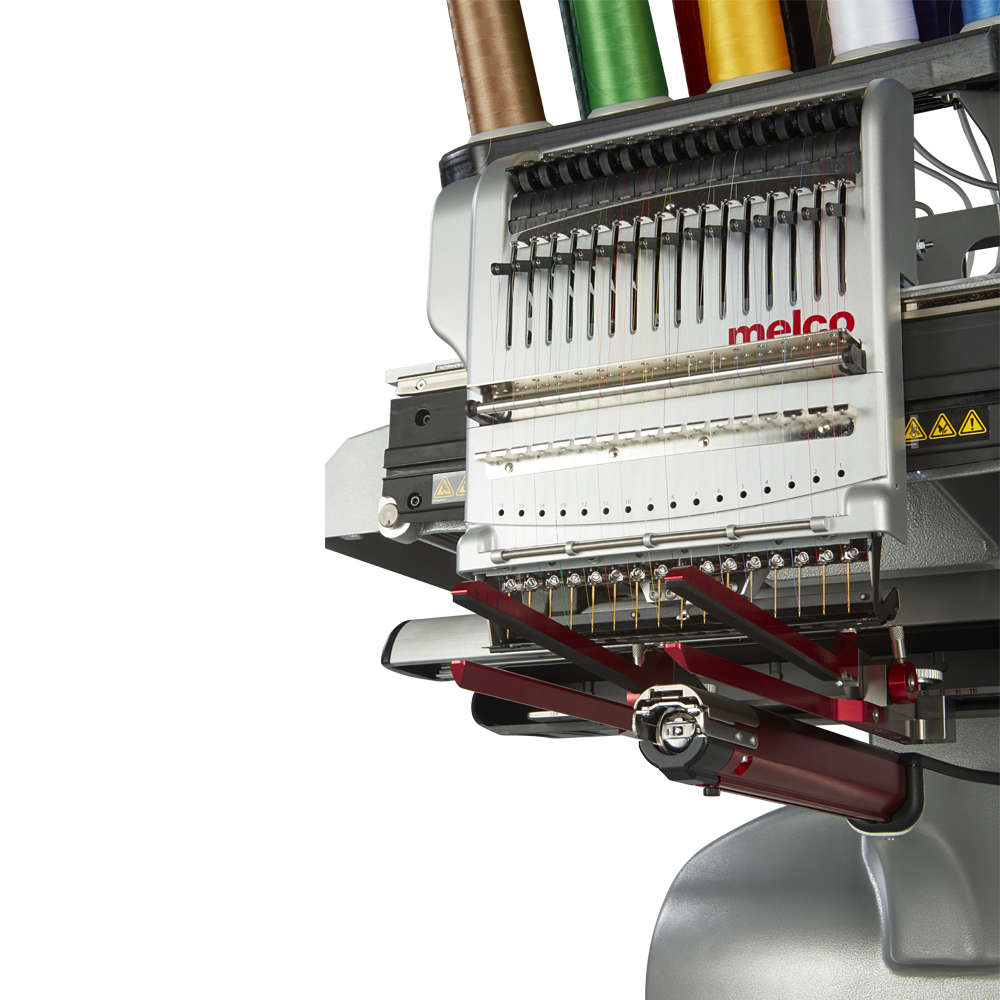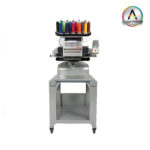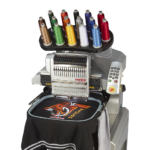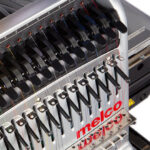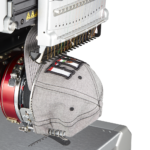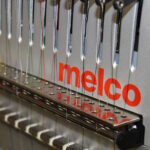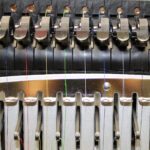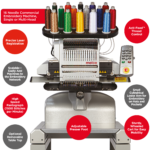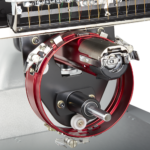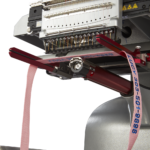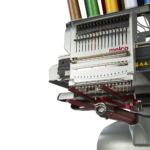 ---
Melco EMT16X modular embroidery machines have established themselves as one of the leading embroidery machines in its field. The modular system gives the Melco many advantages over a conventional fixed head machine. Its main benefits are production efficiency, automatic thread tensioning and speed. When linked together in modular form the Melco EMT16X becomes the fastest multi-head embroidery machine available.
Remember that because the Melco system is modular you can start with one head or as many as you want and then add on when you require.
Visit one of our showrooms and put the Melco to the test and see how they can make your embroidery production much more efficient.
From  £9,450 +VAT
Description
Specifications
Description
Melco EMT16X embroidery machines deliver outstanding performance, efficiency, and stitch quality!
Thanks to enhanced Melco stitch dynamics, the frequency of "thread issues" is minimized. This means more run time per machine and greater ROI potential. In addition to amazing efficiency and performance, the stitch quality is outstanding. There are several new performance and time-saving features, most notably the completely redesigned Lower Arm Assembly and Auto Trimming System.
The new auto trimming system is durable and reliable. Overall trim time has been reduced dramatically, which in turn reduces overall sew time. The self-sharpening carbide knife assembly consistently slices poly, rayon, metallic, and thick Burmilana thread. It's also virtually maintenance-free.
Here are some other new features and advancements:
Automatic Tie-In and Tie-Out Stitches

66% Reduction in Bobbin Tail Length

New Needle Plate Design

New Hoop Arms

Redesigned Thread Tube Assembly

New Grabber Blade

New Bobbin Case Access Panel

New Optional Accessory—XL Hoop

Full 2 years warranty
Thread feed is managed by the patented Acti-Feed™ thread control system, delivering the precise amount of thread automatically. Conventional machines require manual thread tension adjustments. With Melco EMT16X, enter a few simple inputs such as fabric type and hoop selection, and this intelligent system will do the rest!
Here are some things that make the Melco EMT16X unique:
16 Needle Commercial Embroidery Machine, Single or Multi-Head

Acti-Feed™ Auto thread tensioning

Precise Laser Registration

Adjustable Presser Foot

Optional Table Top

High Speed Pantograph (1500 Stitches per Minute)

Small Cylindrical Lower Arm for Embroidery on Hats and Pockets

Sturdy, Wheeled Cart for Easy Mobility

Scalable—Easily Add Machines to the Embroidery Network
Technical Specifications
Needles
16 (The Industry Leader)
Conventional Cap Frame
152 mm x 70 mm (5.9" x 2.75")
Motor Types
Servo
Maximum Stitches Per Minute
On Flats
1500 (The Industry leader)
Stitch Length Range
Only Limited By Hoop Size
Motor Capacity (W)
X and Z: 100 Watts, Y: 250 Watts
Maximum Stitches Per Minute
On Caps
1200 (The Industry Leader)
Machine Configuration
Up To 30 (See AMAYA OS V9 Specs)
Machine Construction Material
Aluminium
Maximum Tubular Frame Size
500 mm x 430 mm (19.7" x 16.9")
Self-Diagnostics Capability
Collects Machine Data for
Troubleshooting
Measurements W/CART
Width 724 mm (28.5"), Height 1669 mm
(65.7"), Depth 779 mm (30.7"), Weight
95.5 kg (210.5 lbs).
Maximum Sew Field/
Tubular Frame
410 mm x 400 mm (16.1" x 15.7")
Lighting
Cold Bright LED
Measurements W/O CART
Width 724 mm (28.5"), Height 952 mm
(37.48"), Depth 741 mm (29.2"), Weight
74.6 kg (164.5 lbs).
Wide Angle Cap Frame
362 mm x 82 mm (14.25" x 3.23")
Power Supply (V)
90–260V (Single Phase, 50/60 Hz)
Power Consumption (W)
Typical: 200 Watts, Max: 650 Watts
For more information or to request a Brochure, call us on 02392 590 281