Upper Threading without Thread in System
If the thread comes out of the system, you may need to thread the machine without a starter thread.
1. To start a new cone of thread, push the plastic thread tubes up from behind the thread tree. Place the cone of thread on the thread seat. The thread tube should extend ½ to 1 inch above the cone. Neglecting to extend the tube ½ to 1 inch above the cone could result in frequent thread breaks.

2. Using either the mono-filament provided in the operator's kit or a can of compressed air, feed the thread through the thread tube from the cone to the small hole behind the thread feeder assembly.

To use the monofilament, locate the small hole behind the thread feed assembly. Push the monofilament into this hole and up through the supply tube until the end extends above the cone of thread. Then, secure the end of the thread in the notch of the monofilament and slowly pull the thread through the tube.

If using compressed air, place the end of the thread in to the top of the thread supply tube. Feed enough that the thread will stay without holding it. Now blow the compressed air into the tube. The air will carry the thread and shoot out the front of the machine.
Video Demonstration: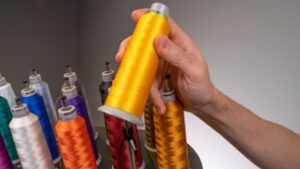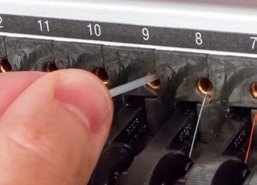 3. Using the black tab just in front, lift the pinch roller.

4. Pull the thread from the hole and place it under the pinch roller. Bring the thread down through the upper thread guide.
5. Pull the thread down to the middle thread guide. Of the three holes, push the thread from the top through the back right hole. Make sure the thread is on the right side of the take-up lever.

6. Bring the thread around the thread sensor from back to front and up through the front hole of the middle thread guide.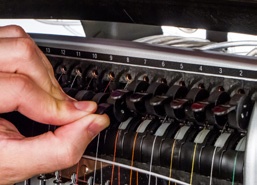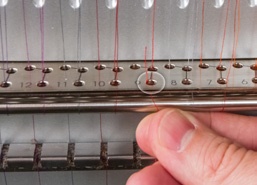 7. Pull the thread up and through the eye of the take-up lever from right to left.

8. Route the thread straight down through the back left hole in the middle thread guide.

9. Press the thread into the felt restraint and feed it down through the lower thread guide.
10. Thread the needle from front to back. Cutting the end of the thread may allow it to more easily pass through the eye.

11. Be sure to align the thread with the small v-notch in the thread feed cover.

12. Press the black tab to lower the pinch roller.