For more information or to request a Brochure, call us on 02392 590 281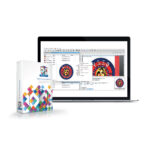 Digital Factory 11 OKI TT Edition
£350.00 +VAT (£420.00 inc VAT)
---
With more features than most in-the-box printer drivers or other limited RIP software solutions, Digital Factory OKI Edition offers specialized colour management and print production workflow software specifically designed for OKI white toner printers.
Description
Digital Factory 11 OKI TT Edition.
Even faster. Amazingly vibrant colours.The richest blacks.
Support for virtually all widely used OKI printers available today. From entry-level printers to professional level Pro-Series printers, Digital Factory v11 OKI Edition RIP software provides unmatched pre-production and print workflow feature set alongside complete colour management tools that include industry-leading, automated white toner handling.
Advanced colour management and print quality.
Pre-configured, variable"No Ink" production queues included for fabric printing. Makes better, softer "feel" of graphics on the garment. Improves colour fastness without an impact on the quality of the printed image. Also provides exceptional print cost savings with optimized toner usage Optimized screening. Precision printing provides the sharpest image details factory-created colour profiles included for an assortment of transfer media and substrates. Print vivid colours on a variety of substrates both textile and non-textile
Leading-edge colour management and production workflow technology.
Digital factory OKI edition vs. other software options
Increase production efficiency, decrease the chance of production errors.

Digital Factory OKI Edition includes automated, preset queues. Other products require that each and every job be set up and configured separately which increases production set up time and also leads to potential errors that waste time and materials. Pre-set queues ensure that proper settings are maintained for all jobs.

Interactive graphic layout tools.

Scale, position designs on the print area directly within the RIP. Not available in many other colour management RIP software or driver-based printing solutions.

Multi-language support

All major languages supported

More transfer media options.

Don't be tied into limited transfer paper selections. Colour profiles for most widely used transfer papers including (Forever™, Shockline, CL TrimFree™, and many others possible)

Print the most vibrant colours on

T-shirts (white, coloured, and black), mugs, coasters, ceramic tiles, cups, bag tags sports bottles, dishware promotional items wood, glass, aluminium, mousepads custom packaging, beer cosies, as well as hard surfaces and speciality substrates of virtually any type.
For more information or to request a Brochure, call us on 02392 590 281