Discover your Polyprint
DTG PrintersPre-treating Machines
Starting at £7,950+vat.
DTG Printers
Polyprint specializes in DTG printing technology, helping garment decorators start and grow successfully with cost-efficient solutions as well as great service and support. We've been designing, developing, and manufacturing TexJet® DTG printers since 2006.
Based in Greece with a subsidiary (Polyprint USA) in Charlotte, North Carolina, and a global network of official distributors, we serve customers in 50+ countries, allowing us to deliver TexJet® DTG printers, inks, consumables, and accessories worldwide.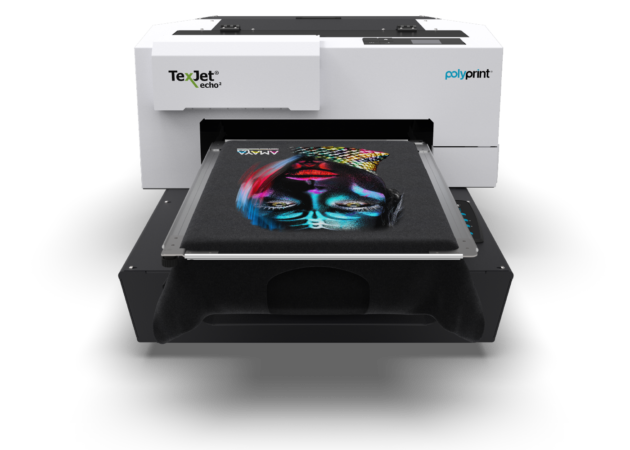 Polyprint Brand History
Polyprint is a hybrid word, from the Greek "poly," meaning "many" and "print," to describe the plethora of garment-personalization solutions that we offer.
Note: In 2019, Polyprint fully redesigned their brand identity to suit their advanced products.
Why choose Polyprint?
Polyprint gained the DTG market's trust in multiple ways. Polyprint continually invests in the latest technology to create, manufacture, and enhance in-house our high-value yet affordable products.
Polyprint's commitment to innovation has made us experts in our field. Polyprint's consulting services pave the way to success in today's competitive apparel customization market. Their skilled personnel provide technical, sales, and marketing support to our distributors and end-users, creating business opportunities for all parties.
Polyprint is committed to supporting, guiding, and training our customers by providing innovative solutions and setting DTG industry standards.
Polyprint Mission
Help garment decorators grow sustainably by providing excellent products and services.

Provide cutting-edge support to maintain their success.

Deliver state-of-the-art DTG printers and other products.
Polyprint Vision
Innovate fearlessly to exceed expectations.

Customize solutions for every customer's needs.

Empower entrepreneurs to create apparel businesses that they love.
Polyprint Values
Be passionate and innovative in our field of expertise.

Be environmentally friendly in our creations.

Be empathetic, responsible, and trustworthy.
In business to serve your business
Polyprint's worldwide network saves you time and money by providing sales and support services through a dealer close to you.
Amaya Sales UK is Polyprints UK Partner of choice.
Their experts carefully select and educate every dealer in sales as well as operational and technical support, so they all meet your needs. These members of our broader Polyprint family fuel our innovation with their feedback from our customers so we can design new products and improve existing ones!