Kornit Direct To Garment and Fabric Printers
Kornit Digital, develops, manufactures and markets industrial digital printing technologies for the garment, apparel, and textile industries.
Leading the digital textile printing industry through its revolutionary NeoPigment™ process, including an integrated pretreatment solution, we cater directly to the needs of both designers and manufacturers to address the changing needs of the entire textile printing value chain.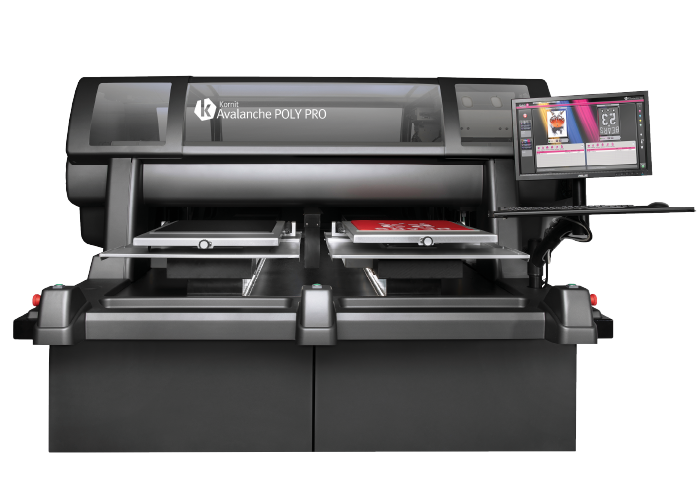 Kornit meets consumer expectations from the fashion industry as it is transforming to a new digital-based benchmark: 24-hour delivery of personalized orders. Fashion brands expand their online offerings to let consumers tailor their preferred items to their own taste. Production plants are being re-shored back home – close to the consumers – and geared towards quick printing cycles of small quantities. At the backbone of this revolution stands Kornit. Printing with Kornit means zero water waste and avoiding excess manufacturing of un-purchased clothes. By enabling sustainable on-demand manufacturing, our solutions help creating a better world, where people can bond, design, and express their identities – one impression at a time.
To complete its vision of enabling fashion on demand, Kornit Digital recently acquired UK-based workflow developer Custom Gateway, which specializes in on-demand manufacturing and automation of production processes and product management. Together, Kornit and Custom Gateway design workflow products to support the on-demand manufacturing of decorated textile goods, from the online store to delivery, from the brand to the fulfiller and consumer.
Founded in 2002, Kornit Digital is a global company, headquartered in Israel with offices in the USA, Europe, and Asia Pacific, and supplies digital textile printing machines to customers in more than 100 countries