For more information or to request a Brochure, call us on 02392 590 281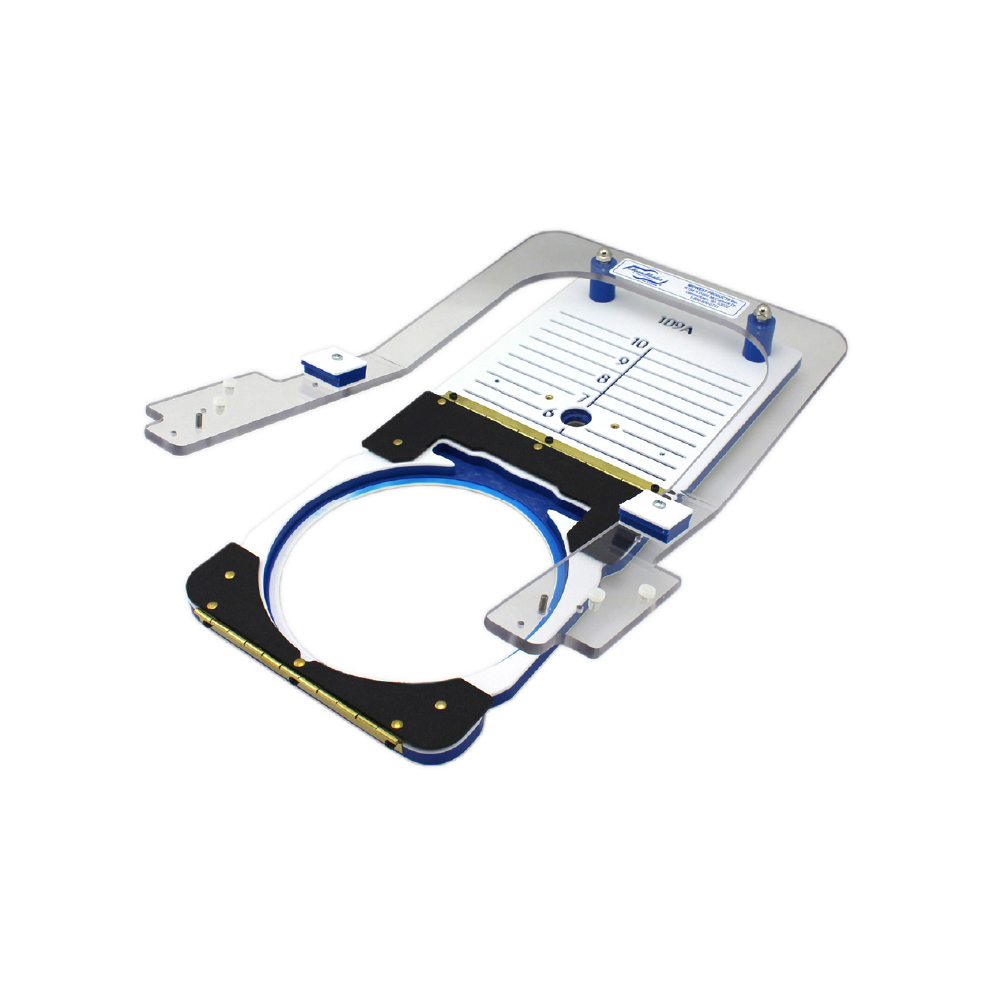 Hoopmaster Fixture
From: £235.00 +VAT (£282.00 inc VAT)
---
Fixtures for all the frame sizes that you can used in conjunction with the Hoopmaster Framing station
Available for most embroidery machines
Description
Melco Hoopmaster Fixtures Only
We have a variety of fixtures available for all the frames that you want to use on the Hoopmaster Framing Table.
They are used in conjunction with the framing stations.
About Hoopmaster:
The HoopMaster's many patented features make framing easy, faster, and more consistent. You can document logo placement for quick setups and more consistent placement. The HoopMaster is custom made for your hoops, so there is no hardware to adjust. With the HoopMaster, new employees will be framing perfectly in no time at all.
The Hoopmaster standard station to hold the hoop and fixture while hooping.The Hoopmaster Universal Embroidery Framing System is the quickest and easiest embroidery framing system around; simple in design and built to withstand the punishment of a commercial environment. It's many patented features make framing easier, faster and more consistent. Even the most inexperienced or new employee will be framing quickly and accurately in no time at all. Your productivity and profitability will increase as well as the quality your customers deserve. Hoopmaster is available for most makes of embroidery machines. Perfect for sports shirts, sweaters, jacket fronts and backs, t-shirts and much more.
Also available for: Allied, Tajima, Barudan, Brother, SWF, Happy, ZSK, Melco, Toyota, HoopTech, Durkee, Feiya, Axiom, Aemco, Prodigy, Phoenix, Consew, Inbro, Generations. Hoopmaster framing systems and fixtures for Melco Embroidery Machines are stock items. For any other brand please call 02392 590281 to discuss with one of our product specialists.
Sizes available: 9 cm, 12 cm ,15 cm 18 cm, 22 cm ,30 x 36 Jacket Back.
Magnetic backing – The magnetic backing material holder eliminates the need to use tape, clips or messy spray adhesive. The magnetic flaps hold the backing material in place over the lower ring while you frame the garment.

Pins on the Fixture – There is no hardware to adjust or loosen when changing logo location or hoop size. The pins automatically square the fixture with the work surface. Simply lift up the fixture and set it down in a new location using the self-aligning pins.

The Fixture Arms – The Fixture Arms hold the tubular frame perfectly square with the work surface & directly over the lower ring. All you have to do is align the shirt & press the hoop down.

Number and Letter Grid – The grid is used to document logo placement for repeat orders. For example, when you document that a logo is placed at "D19" all repeat orders will be consistent and easy to set up.

Rim on the Fixture – The raised rim recesses the hoop ring at the correct depth every time. This holds the garment taut while being embroidered.
For more information or to request a Brochure, call us on 02392 590 281