A Guide to Running a Successful Personalised Printing Business
Tuesday 12th September 2023 at Nest Business Park, Havant, Hampshire PO9 5TL.
10am-4pm
👕 Personalisation Power Unleashed
Tap into soaring demand, reshaping the B2C landscape.
🔧 Live Demos: Machinery Marvels
See our system in action, creating an array of customizable products.
👚 Smart Sourcing Strategies
Learn from top wholesalers, sourcing blanks for ultimate personalisation.
📣 Social Media Mastery
Ace sales and marketing with insights from a social media pro.
💰 Seamless Financing Insights
Navigate financing options effortlessly for your business.

Spaces are limited, so don't miss out!
Book your place now to secure your spot and embark on a journey towards financial freedom and creative fulfillment.
Are you tired of the 9-to-5 grind? Then it's time to BE YOUR OWN BOSS.
Join us at our "Passion to Profit Workshop" exclusive event where you will discover how to set up and
succeed with your very own personalisation business – printing and decorating garments, gifts and more.
But surely this requires a huge investment in complicated machinery?
Actually, NO!
With Amaya's entry-level personalisation system, plus financing options, you can get started without breaking the bank and quickly get to grips with our intuitive technology. Plus, you'll have extensive after-sales support from our expert team.
Ready to learn more about establishing a profitable personalisation business from scratch?
Then sign up today to our one-day event, which will be hosted at our Havant office (Unit 400-450 Nest Business Park, Martin Road, Havant, Hampshire, PO9 5TL).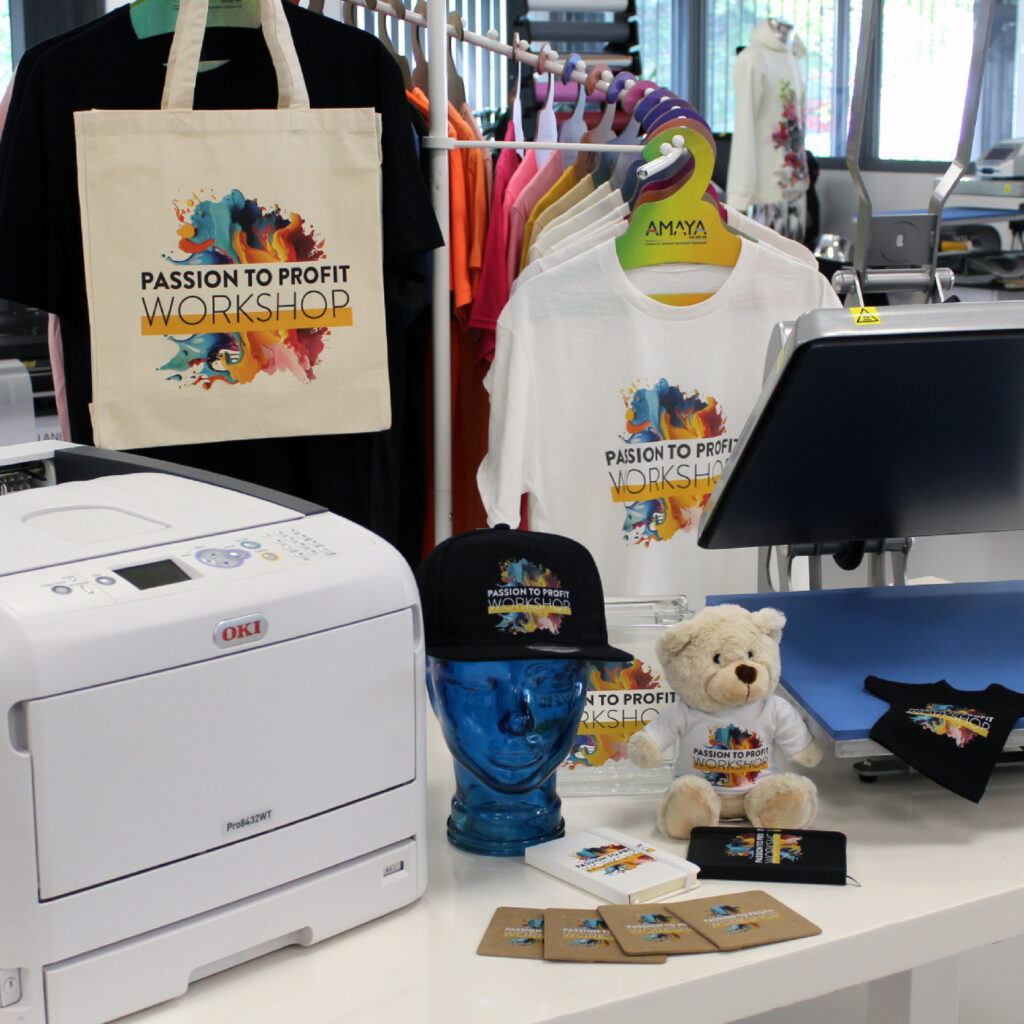 Secure your place today
Click here to reserve your spot today and unlock the key to a thriving personalisation business!
What will you learn at our event?
How Amaya can help you
Learn about our 30-year history in the garment personalisation industry and
our expansive range of trusted, leading brand machinery.
Why invest in garment personalisation
Explore the rising demand for personalisation and how it's changing the B2C industry.

How the machinery works
See live demos of our entry-level system revealing the large variety of
products you can make.

Where to source your garments
Hear from an established wholesaler on how to source blanks for
personalisation and what's available for new-start businesses.
How to sell and market your products
Get expert advice from a social media expert on how to create the best social media strategy for your new business.

How to pay for your machinery
An introduction to financing options and how it works.
Take the first step to setting up your own profitable personalisation business today!
Secure your place today
Click here to reserve your spot today and unlock the key to a thriving personalisation business!