For more information or to request a Brochure, call us on 02392 590 281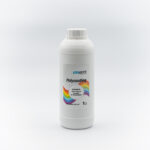 Texjet PolyCoating
£29.50 +VAT (£35.40 inc VAT)
---
Texjet PolyCoating for use with light-coloured cotton and polyester garments where white ink is not required
Description
Texjet PolyCoating pre-treatment is a specifically formulated use with light-coloured cotton and polyester garments where white ink is not required.
When used with white or light-coloured cotton garments this solution enhances the inks' vibrancy while increasing the wash endurance of your print, meaning less evident fade of the colours through washing.
To print on white or light-coloured synthetic materials, such as polyester, this solution is essential. It allows the ink to bond to the synthetic fibres opening up a wide range of different applications.
For more information or to request a Brochure, call us on 02392 590 281